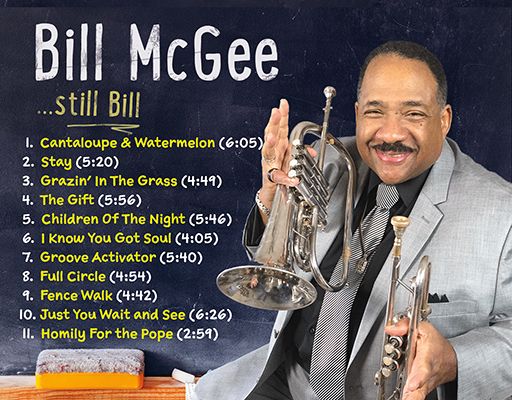 No matter what your career path is; life happens. Since his first solo CD, "This One's 4U", which was released in 2002, Bill McGee has survived prostate cancer, had nine grandchildren, retired after thirty years as a school administrator and music teacher, released seven different CD's as the owner of the 804 Music Group and has come around full circle as a full time musician and recording artist. He was given his first trumpet lesson in 1963, and says that he's still learning how to play the instrument. Bill recorded for the first time in 1970, in a small studio in College Park, Georgia with his classmates from Morris Brown College who went on to become "Brick" (Dazz). After receiving two gold records and working with stars like the O'Jays, Lou Rawls, Evelyn Champagne King, and The Sugar Hill Gang, still learning how to play is a bit of an understatement. But after a nine year hiatus since the hit CD "Chase the Sunset", Bill wants everybody to know that he is "Still Bill", a soulful, spiritual, jazzy kind of trumpet guy, who as an arranger and composer can hang with the best in the business. His fourth solo CD "Still Bill" comes with all flavors of Jazz, Soul and Gospel-Jazz. With a great cast of musicians and singers who all have what Bill likes to call "The Gift". Much of the music is a reflection on his early life as a young trumpet player learning songs like "Watermelon Man", "Cantaloupe Island" and his first public solo, playing "Grazing in The Grass". Another group of songs represent his days as a young professional musician with his group (Trussel) and being influenced by Mandrill's "Fence Walk" performed by new comer, Shawanda Yeldell and "Children of the Night", by the Stylistics, performed beautifully by Yolanda "Yonnie" Coleman. We also find songs on this CD that reflect on a spiritual journey that recognizes, we all come "Full Circle", and in time learn to appreciate "The Gift" of music, given to us by the creator. Here you find the beautiful uplifting melody of the original Gospel-Jazz composition "Just You Wait and See" performed by the marvelous voice of Reverend Cora Harvey Armstrong, backed by the 804 Jazz Allstars. The CD "Still Bill" reflects the life and experience of the veteran trumpet player Bill McGee, who sincerely believes "To whom much is given; much is required."
"Still Bill" has eleven outstanding songs all recorded, mixed and mastered by Bill McGee and his associates, Tom Reaves; a phenomenal guitarist, singer, composer who has played on all four of Bill McGee's CD's, and Edward E.J. Shaw; a gifted drummer, bass player and pianist who in the early 90's was in a high school band directed by Bill McGee. Then there's Brandon Lane; a gifted composer, arranger, engineer, and bass player extraordinaire. Brandon at thirteen (13) made his recording debut when he played on Bill's cover of "I Wish" from the "Chase the Sunset" CD. Along with these three fantastic musicians the CD "Still Bill" features many, talented musicians and singers including FoxHole Records guitarist and the husband of Evelyn Champagne King, Freddie Fox; on Brandon's composition "Full Circle". And there is the young prodigy, Ayinde Williams, the 18 year old pianist who is featured on the lead single "Cantaloupe and Watermelon". A 2015 high school graduate, Ayinde studied at Berklee College of music for three years in their summer youth jazz program and was awarded a scholarship to the New England Conservatory of Music to study Jazz Performance. Bill says "it was an honor to feature Ayinde on these two Herbie Hancock classics because of the synergy and similarities between a young Herbie Hancock and this fine young pianist who is most definitely heading for bigger and better things as a jazz pianist." Also on the single is Ayinde's younger brother, Kofi Shepsu on drums and sax man Dexter Moses on sax. Both of these talented guys are still in high school at the Appomattox Regional Governor's School of the Arts. All three have studied for years with noted jazz educator Ashby Anderson.
 Also featured on the CD are 804 Jazz label mates, James Saxsmo Gates, on sax and Dr. Weldon Hill, on piano. Both of these amazing artist have been recently nominated on the first ballot for a Grammy in composition and arranging. Saxsmo stands out once again on several songs, but one in particular is "I Know You Got Soul", a funky G minor blues that will have you moving your head from side to side if you're still breathing and sentient. The CD "Still Bill" has so many great originals and cover tunes that it is fundamentally a start to finish listen, no jumping around here, what Bill calls "riding music". As the CD closes out you will hear an original composition written by Bill McGee to acknowledge the 2015 visit of Pope Francis to the United States. "Homily for the Pope" was released on Facebook and YouTube as a tribute video and received thousands of views. Bill explained that while he is not Catholic, he admires Pope Francis for being a simple man of the people, the sick and the poor; a down to earth man who follows the words of Christ as he ministers to his people. In recording this song Bill stepped away from normal studio production and recorded it in one take, keeping all of the flaws and nuances in an effort to reflect the passion and realness of the moment. This song brings the CD to a satiating culmination of excellence and inspiration, and yes he is definitely "Still Bill"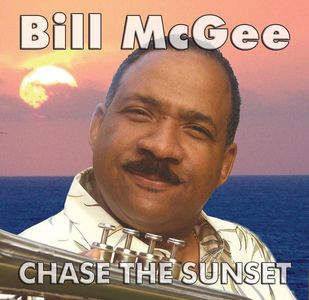 Trumpeter and Educator, Bill McGee (William Ford McGee) was born on Feb 16th, in Richmond, Virginia to Bill and Vivian McGee. He's been a top trumpet man in the music industry for over forty years. Bill McGee credits his musicianship to his roots in Atlanta, where his mother was on the faculty at Morris Brown College. "My mother use to chaperone band and choir trips at the college. (The wonderful Jazz vocalist, Jean Carn was a soloist in the Morris Brown College choir at that time, as Sarah Jean Perkins, she is also a graduate of Booker T. Washington High School)  "Going with my mom when she chaperoned gave me a chance to see the famous (FAMU) Florida A&M University marching band perform throughout the mid-sixties."  Jazz Lovers know that Jazz great Julian Cannonball Adderly and his brother Nat Adderly attended FAMU. Dr. William P. Foster, the famous director of the FAMU Marching 100 was one of the people who revolutionized the marching band concept by playing Movie Themes, Broadway Hits and popular songs like James Brown's "Cold Sweat" and "Papa's Got a Brand New Bag," instead of the traditional military style marches. This exposure to high energy music was very influential because Bill didn't have the benefit of hearing Jazz every day or being around a lot of musicians until he went to high school, "Don't get me wrong, when I was young I heard Diana Washington, Andre Previn, Nat King Cole and Johnny Mathis, but my mother didn't play much be-bop or straight ahead stuff like Diz, Miles or Coltrane."
He credits his high school band director, Dr. Bobby Jordan, (a Washington High and FAMU graduate) for setting high standards. He constantly talked about the need for learning the fundamentals of music. It was that foundation and the older students in the band that had the greatest influence on him. One of his first important influences was William Gee, a trumpet player, who in high school played jazz piano and wrote arrangements for the school band. William "Billy" Gee went on to become music director and pianist for Marvin Gaye. Another influence was Scott Edwards, a gifted trombonist from a family of talented musicians, who a few years after high school became renowned as a studio bass player. Scott performed and recorded with Stevie Wonder as a long time member of Wonder Love.
Bill believes that the history of his high school had a significant impact on his foundation. He graduated from the historic, Booker T. Washington High School in Atlanta, Ga., which is the same high school that Dr. Martin Luther King, Jr., Lena Horne (8th grade), Mattiwilda Dobbs (Opera singer), Gladys Knight, Nipsie Russell, Dr. Louis Sullivan and Jean Carn, attended. "At Washington High, we were always taught that you could be anybody or do anything that you wanted to do if you were willing to work hard. They used Dr. King, Gladys Knight, Lena Horne and Dr. Sullivan, as examples of excellence and tradition."
After high school McGee gigged with several local bands including Curtis Smith and The Counts. Curtis Smith was an R&B guitarist from Alabama who had the traditional R&B style. "Curtis was the first recording artist I worked with. He had a single on a small label, so we performed all over the Southeast. Curtis was friends with Roy Lee Johnson, another R&B guitarist/song writer." In 1964, John Lennon decided to record Roy Lee's "Mr. Moonlight," which would appear on The Beatles "For Sale" and "Beatles '65" LP's. He was the first songwriter that I met. Keep in mind I was only seventeen. They would sit around and talk about the people they knew like, James Brown, Otis Redding, William Bell, Gladys Knight and Gorgeous George. George was the emcee for the Isley brothers, he use to tell us how Jimi Hendrix played in his band and smoked those strange cigarettes." McGee said, "To an impressionable seventeen year-old, these were great stories."
In the fall of 1969, Bill McGee enrolled at Morris Brown College, where guitarist, Regi Hargis, bassist, Ray Ransome, and saxophonist/pianist, Donald Nevins, had formed a horn band named Hellaphenalia. In early 1970, they asked McGee to join the group. The group subsequently signed a deal with Tangerine Records, which in 1971-72 released the group's first recording. Ain't Nothing Superstar about Me. "I remember that we use to record at a small studio in College Park, Ga., and we played our horn parts in a closet, that was converted to a booth. Another member of the original group was saxophonist and arranger James McDuffie (who passed in 2012). Duff was a great influence on me like Gee, because I had a chance to watch him write songs. I watched him write a song for an Atlanta vocalist "Gina Hill" and a few months later I heard it on the radio, that was very exciting." During this period black music was changing from the R&B style of Otis Redding and James Brown to the self-contained bands like Sly and the Family Stone, War, Santana, The Ohio Players, and Kool and the Gang. It was a great time to be a young trumpet player. After Mcgee and others left the group, Hellaphenalia reorganized as the hit group Brick. "Dazz, Dazz" (Bang Records/CBS.)
"Atlanta and the big city life was getting the best of me, so in January of 1973, I moved back to Virginia hoping to finish college. I moved in with my grandparents and with their support enrolled at Virginia State College. I remember in my admissions interview that I told the professor my gigging days were over until I graduated. Three weeks later, I co-founded the group Trussel "Love Injection". By this time I was almost twenty-one and my experiences in Atlanta proved to be an asset to the group. Our co-founder and drummer, Ron Smith, was from Englewood, New Jersey, where he attended school with Nat Adderly Jr., Ernie Isley and Luther Vandross. Ron was also the back-up drummer to Yogi Horton, at All Platinum records, so he already had experience making records when he came to Virginia. Both of our experiences were very instrumental in setting the foundation of the group Trussel. We subsequently started our own record label, "Bridge The Gap Records and Tapes" and opened a record store. Trussel developed a huge following at many of the HBCU colleges in the south. We frequently performed in Greensboro, (The Cosmos Club) and Winston-Salem, (The Dungeon) and in Asheville, NC., at a huge club that could hold two thousand people, called "The Orange Peel." In the mid-seventies, around the southeast, there was a network of clubs where bands could consistently gig. "We played the same club circuit as The Commodores, Zapp & Roger Troutman, Peabo Bryson, and Mother's Finest.."
In 1978, Marvin Daniels, a close college friend, a fantastic trumpet player and leader of the group Southern Energy Ensemble, made a connection with a lawyer from Philadelphia (Jonathan Black.) Black was the manager for a fifteen year old girl that had a record deal with RCA. Her first single had been released but wasn't really moving. They needed a band to back her up and tried unsuccessfully to get a group together in Philadelphia. "Marvin contacted me and asked me if Trussel would be interested? I said, "you must be crazy, we're not backing up a fifteen-year-old brat, and I don't care what kind of record deal she has." Everybody but two of us voted to give it a try.
The girl was Evelyn "Champagne" King. Her debut single "Shame" (RCA) had just hit the Billboard Disco Chart. "The kid came in to sing for us, we started playing the Chaka Khan cut "Once You Get Started," she started singing and we all almost dropped our instruments. I had never heard a kid sing like that before in my life. She was a gifted child with a big, low-pitched voice and she was only fifteen. I immediately became her biggest fan." Marvin served as her music director and Trussel began backing her up. "A pivotal night was when we performed at Broady's in New York, for the RCA staff. Label president, Bob Summers, came with Warren Schatz and Al Garrison. They were floored by the performance of both Evelyn and Trussel. After the show they came to our dressing room and promised to sign us to RCA, we were on cloud nine. We had just been promised a record deal by the big dogs at the label. That's the night when "Shame" received a priority from the head of the label and from that point on it received all of the promotion necessary to make it a BIG hit."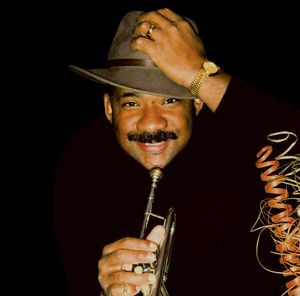 Not long after the whole picture started to change. On the night we were doing a gig at Constitution Hall in DC with Chic. A tall, well dressed, gentleman came with the King family; he asked to speak to the band. He informed Trussel that Evelyn's manager, Johnathan Black, had been terminated and that he would be her new manager. "That's the night the bottom dropped out of the floor," says McGee. "We just stood there with our mouths open asking, what about the record deal? What about us?"

Ultimately negotiations to remain with Evelyn didn't work out, so she got a new band. That's when Jonathan Black offered to find Trussel a record deal. So, the group returned to Virginia and gave Black one year to secure a major label record deal. In January 1979, Evelyn's parents asked Bill McGee to return as her music director. "That period was cool, we traveled all over. Both "Shame" and "Smooth Talk" were hits, so we were performing with all the big names." While the Trussel rhythm section worked on new material back in Virginia, the other members of the horn section (Hannon Lane, and Lynwood Jones) joined McGee on the road with Evelyn King along with former Trussel singer Veronica Nyljah Jones. At home, the new material included a song entitled "Love Injection," a jazzy song about a love connection, written by drummer Ron Smith and trombonist/guitarist Hannon Lane. John Black connected the group with another producer/manager, to his credit, this person brought in Fred Wesley to actually produce the album "Love Injection", for Elektra/Asylum Records. The single "Love Injection" was a hit and was featured on Soul Train many times. However, there was a big problem, financial and creative, with the manager/producer that Black brought in, so much so, the group refused to work with him on the second album. This essentially led to the break up of the group "Trussel".
After Trussel, McGee worked as a member of the New York based studio horn section Chops (Alicia Keys - Horns), with sax men Darryl Dixon and Dave Watson, trombonists, Melvin El, Robin Eubanks, Sylvester Smithers and his close friend and trumpeter, Marvin Daniels. We recorded all of the Sugar Hill Record rap classics (before samplers took over). I played lead trumpet on most of the original rap records by "Grand Master Flash and the Furious Five", "The Sugar Hill Gang", "The West Street Mob" and "The Sequence with Angie Stone". I also played lead trumpet on albums by The O'Jays "Out In The Real World," Leon Huff's "The Right Stuff," Patti Labelle, The Stylistics, and McFadden and Whitehead. This was the post disco / pre-rap era record industry. Eventually, Philly International Records and later Sugar Hill records both folded, without any real explanation as to why. So, in July of 1987, he joined his friend, Joyce 'Fenderella" Irby, as tour manager for Klymaxx (EMI/SOLAR). Klymaxx had the hits "I Miss You" and "Meeting In The Ladies Room." But, "the group was having growing pains and after we completed the tour of Japan, Hawaii, and Guam, I returned home to teach, pretty much fed up with the fickle nature of the music industry." During this time Bill McGee performed from time to time as a musician with Lou Rawls and Ray, Goodman, and Brown (The Moments.)
After Klymaxx, when the music industry was turning primarily to samplers and sequencers instead of live musicians, Bill McGee accepted a position teaching music in Richmond, Virginia, where he met D'Angelo. "I first met Michael "D'Angelo" Archer when he was in the 8th grade, he had his own band and was already performing like a professional at twelve years old." At the high school where I taught, (John F. Kennedy, Richmond, Virginia) we started a performance group that was designed to give students the opportunity to perform with professional equipment and with a live band, that same group has produced Mad Skillz, (Atlantic/Rawkus Records,) Danja Mowf (Country Boy Music, Elektra/Gold Mine, Missy Elliot, Aaliyah) and VA, One to Grow On, (Dreamworks), Harold Lilly (Luther Vandross & Alicia Keys), Gerrad Thomas, Lamont Fleming (Chris Brown & Destiny's Child). I remember when Michael and his mother came to my house to discuss his options for a music career; he was extremely focused at 15 years old and already knew what he was going to do with his life. For five years, until he was out of high school he would come and perform on the talent showcases I produced." There was a healthy competition between my students and Michael, because he went to a different school he would prepare all of his material on his own. When he came to the rehearsal I could feel the tension and competitiveness. He set the standard for how to perform like a professional." When McGee left Richmond, the other music teachers, Haywood and Greg McCallum continued the showcase tradition. To his credit, D'Angelo returned as a special guest performer the same year his hit "Brown Sugar" was released.
In 1993, Bill McGee left teaching in the public schools and accepted a position at Elizabeth City State University, directing the school's unique Music Engineering and Technology program, while at the same time pursuing a Master's Degree in administration at Norfolk State University, in Norfolk, Virginia. After receiving his Master's degree, he accepted the position of Director of Instrumental Music at Morehouse College, Atlanta, Georgia. "My experience at Morehouse was great, I have never seen a finer group of young men anywhere. The young men who attend Morehouse and the faculty are so focused on excellence that it's scary. Everyone should visit Morehouse College, just for the experience of seeing this campus full of focused young African-American men, all striving for excellence." Another highlight of his return to Atlanta was being there for the Centennial Olympiad and performing for several Olympic events.
Even while in Norfolk and Atlanta, Bill McGee was still collaborating and running a label with his former student, Danja Mowf (Danger Mouth.) In 1996, they released the solo album by Danja Mowf (Danger Mouth) "Word of Mowf." On McGee's label Funtown, which includes one of the best remakes of Billye Holliday's "Strange Fruit" ever made. The album was favorably reviewed in every major hip-hop magazine and was featured in the popular do-it-yourself book "How To Make and Sell Your Own Record" by Diane Rappaport. "Considering all the fuss over the negative aspects of RAP I encourage everyone to listen to QUESTION by Danja Mowf. We released this in 1996 and it's still a classic. The whole song questions if a rapper has to talk about pimpin, selling drugs and being a gansta to be a real rapper?" "Danja was a kid who had moved to the suburbs at an early age, however as a teenager he moved back to the inner city with his grandparents. He never really lived the thug life and was somewhat perplexed that the industry was making the thug life a litmus test for keeping it real. Danja went on to finish college and sign with Missy Elliot.  Bill McGee returned to Richmond from Atlanta to accept a position as an administrator with Richmond Public Schools. "My grandmother always gave me that old school wisdom - You got to have something to fall back on." So as the industry has flipped and turned over the past thirty years, I've worked in the music industry when the work was available and at other times I've used my education to make a living and pay my bills. You know, that's why I went to college in the first place."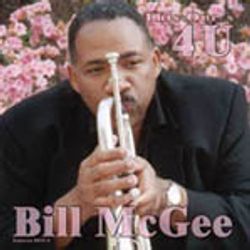 Bill McGee has continued to mentor and develop hip-hop artist. Especially, The SupaFriendz, (Mad Skillz, Danja Mowf, and radio personality/rapper Lonnie B., at Richmond's Power 92) In 1999, the group had a smash hit with Aaliyah's "Are You That Somebody - Remix." McGee says, "It was real cool because we got to fly to New York, to perform the song with Aaliyah, Missy and Timbaland. She was such a nice down to earth young lady; it's a real tragedy that she died at such an early age. I'll always cherish the picture I took with her."
Along with Danja Mowf, Bill McGee was the co-executive producer on the title song "What's The Worst That Can Happen" by The SupaFriendz from the movie featuring Martin Lawrence and Danny DeVito. He also co-wrote and co-produced two other songs that were featured prominently in the movie and on the soundtrack. (Whatever Doja Wants - Doja Gets) and (Hit The Road Jo).

Bill McGee acknowledges that most of his career he has been been what industry people call a sideman; a member of a group, a supporting musician, or business/production/technical person, someone who is pretty much incognito." The musicians, the recording engineers, the arrangers, the background singers, the producers, songwriters, the accountants, art designers, they all play a significant role in the process; these are the people who really drive the entertainment industry and they're all usually very much incognito. In 2002, with the release of his first solo smooth jazz album "This One's 4U" that began to change. This one's 4U was a great experience and ephiphany, prior  to this I had always been a member of a group or hired to perform. With this CD the buck stopped with me. To make it harder, it was also released on my new label 804JAZZ.

I believe that the time was right for me to step up and do my own thing, so to speak. I've worked behind the scenes for years helping other people get to the next level. I've played on so many albums where my name isn't even mentioned; I don't even remember the names of all the songs. So, I needed to do something for myself. Recording my CD's has been very therapeutic. To step out right, Bill McGee knew that he needed to call on some special friends to assist him in his new career move. So, On all of his solo CD's you'll find what he calls the 804 Jazz Allstars. Which essentially is the best musicians and singers that Virginia has to offer. Many of whom have outstanding professional discographies and track records.

The second solo CD, released in 2004 was "Soul Man" a classic smooth jazz CD, with original songs based on and inspired by the Harlem Renaissance. The CD features the 804 Jazz Allstars and acclaimed smooth jazz guitarist, Jim Atkins on the smooth jazz anthem "Chill". Also featured is Bill's collaboration partner, guitarist Tom Reaves. The CD features 12 songs that are all excellent selections. Stand outs selections are the title cut "Soul Man", the Barkay's "Soul Finger", Horace Silver's "Song for my Father", and last but not least, an emotive version of Brenda Russell's "Get Here If You Can" featuring Carlton Blount of the Main Ingredient.
The third time is the charm and Bill McGee's third CD "Chase The Sunset" proved that without a doubt. Peaking at #43 on the Smooth Jazz Top 50 Chart and #14 on the Indie Smooth Jazz Chart, Chase The Sunset which was released in 2006, and soon thereafter, became a standout CD in the smooth jazz market. The lead single "Gold Baby" was dedicated to Bill McGee, Sr., and received lot's of airplay all over the country and around the world. In addition, the single "I like the way you move" featuring the neo-doo wop group Bak N da Day, received lots of attention in Europe and the U.S., according to Apple's iTunes. 

Bill McGee recently retired as a school administrator with Richmond Public Schools, in Richmond, Virginia. As far as his career in education, he says, "working with children was my way of thanking my parents, and grandparents for the love and education they gave to me. My family has a great legacy in public education, I'm was just trying to live up to that heritage and at the same time use my GOD given gifts as a musician." In 2015, Bill McGee was honored by his former students with a sold out banquet and concert in his honor that featured what was called the 25th anniversary Showcase Reunion... "it was fabulous and I am so blessed that my students from 1987-93 thought that much of me that 25 years later they would throw this awesome banquet and concert in my honor. It's to them that I dedicate my new CD "Still Bill" along with my nine grandbabies."

Bill McGee comes by both of his professional missions honestly. His grandfather F.W. McGee was a top selling gospel music recording artist and pioneer. He, was recording for Victor records and Okeh Records in the 1920's. Rev. McGee was credited with influencing Mahalia Jackson, Thomas Dorsey, Sister Rosetta Tharpe, and Arizona Dranes. Bishop Ford Washington McGee was also a pioneer in the holiness movement, as a former teacher turned preacher with the Church of God in Christ, where he was influential in the founding of several C.O.G.I.C. congregations in Chicago. "Expertly blending lively congregational singing with powerful preaching, the Reverend F.W. McGee was among the most popular country gospel performers of the pre-Depression era." (Smithsonian Folkways Music Archives).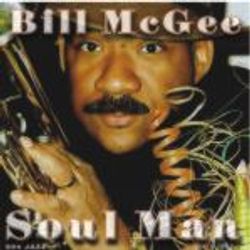 McGee's great-grandfather, W. E. Day was a Professor at Paul Quinn College and Principal at Booker T. Washington High School, Sapulpa, Oklahoma. His father, William Day McGee, was School Superintendent in Chicago Heights, IL, his uncle William Henry Wiggins, III, of Petersburg, Va., was a Principal for twenty-five years, and his mother, Vivian Laverne McGee, taught for twenty-five years, worked for the U.S. Department of Education and was one of the pioneer directors of Project Upward Bound. His first cousin the late Dr. Sonya Haynes-Stone was Professor of African-American Studies, University of North Carolina Chapel Hill, where the Black Student Center complex is named in her honor. Bill is also the cousin of noted Boston Architect David Lee (Stull & Lee) and former HBO Films President, Henry W. McGee, III.
Sign up for Free Stuff & Gig Info
The Home of Great Music Jazz/Gospel/Soul
James Saxsmo Gates
Together We Can Make It
Bill McGee
Still Bill
Rev. Cora Harvey Armstrong
Greater Is He
Dr. Weldon Hill
Free Expression
James Saxsmo Gates
Gates Wide Open
Bill McGee
Chase The Sunset
James Saxsmo Gates
It's Time
Bill McGee
Soul Man
James Saxsmo Gates
C'ome Over To My House
Bill McGee
This One's 4U
Bill McGee
Still Bill #18 Billboard